Monday, April 3rd – Friday, April 28th
"All About Augusta" An Art Exhibition Celebrating Augusta & Our Local Artist Community
Please join 4P Studios at the 600 Broad Gallery during the month of April as we celebrate our city with an exciting exhibition featuring incredible works of art inspired by our city!
Participating Artists Include: Alex Foltz, Haliegh Key, Michael Lindsey, Michael Meissner, Scott Shaw & MORE!!!
Free, public reception:
FIRST Friday, April 7th, 7 – 9 pm
600 Broad Gallery | Downtown, Augusta, GA
Friday, April 14th 6-8pm
April workshop will be a painting of the Earths largest creature. Join us Friday, April 14th from 6-8pm at the Harlem Java House. Materials supplied, limited space so registration is required. Space is Limited. You can purchase a tickets at the bottom of the page.
Friday, April 21st, 6-8pm
Come join us at the MAC on Main Gallery in Thomson, GA as we recreate Van Gogh's Starry Night. Registration required. Space is limited. $50 per student, materials supplied. Sign up below. Parking and gallery access is from the rear of building.
June 17th, 2023
Augusta Art Council's 'A Private View'
The event will be held at The Frame Shoppe and Gallery on Walton Way, Saturday June 17th from 3-5p. The event will be catered and there will be a speaker highlighting the benefits of collecting original artwork. Please let me know if you want to be on the invitation list.
Oil Paintings and Pastels 
by artist Michael Meissner, OPA, PSA

Meissner Fine Art featuring landscapes from the places that embed themselves in my eye. Capturing morning light on a hay barn in Augusta, the wind blowing through the dune grass at Newcomb Hollow Beach, Wellfleet. Last rays of the sun touching the Tetons, water rushing by a Appalachian mountain stream all flow from the brush. Michael's artworks are on display at MAC on Main Gallery in Thomson, GA, Devine Designs in Warrenton, GA,  Southside Gallery in Aiken, SC, Harlem Java House, Harlem, GA and The Bluffton General Store, Bluffton, SC. Please browse the online shop to order originals or if you are local to the Central Savannah River Area, contact us for local pick up or delivery. Visitors are always welcome at the Appling studio/farm. Click here for directions to Double Gap Farm.
Welcome to the Fine art of Georgia artist Michael Meissner. Member Pastel Society of America (PSA) and Oil Painters of America (OPA) Joyfully spending 35 years criss-crossing back and forth from commercial design to fine art (watercolor, oils and pencils) to wood working without skipping a beat. Adding the acquired knowledge from one medium passed on to the next. Creativity is not limited to one set mediums, but enhanced by the palette of many diverse tools. Please enjoy my art, and if you have any suggestions on subject matter, please share.
Portraits Commissions
Portraits are one of the hardest things to paint. Whereas a landscape can be of in the drawing stage and still look perfectly fine a portrait relies on excellent draftsmanship to capture the likeness of the subject. A good photo to work from is essential in sharpness, lighting and size. Not all good photos make good paintings, something to remember. There will be a certain amount of artistic license taken to breathe life into the painting, and colors are critical in this regard. Info on Pet Portraits.
Landscape Art Paintings
Landscapes, architectural and animal paintings are my favorite. Composition and color play the heaviest roles in these art works. The color of the light and the shadows are emphasized to bring out feelings in the viewer. The right amount of details is a stepping off point so not to be overworked and too photo realistic. I understand realism is a art form in itself, but its often what details are left out and asked to be provided by the viewer that makes it art.
Art Commissions
Commissions are what I rely on the most for subjects. The pieces often reflect someone or something that has a special place in the heart that the painting is expected to carry on through time. Images of Augusts Georgia Art, and old friend that has passed, a newborn life, a favorite pet all deserve the greatest attention. Again, draftsmanship is critical to make that connection and deliver the work into that ongoing memory.
Art Painting Commissions on request
If you have something you would like painted or a portrait, inquire about commissions. I am often asked how long a painting takes. The best answer is however long it takes. Some go quickly, others are more detailed and require more time. Oils dry slowly, so a painting that requires several layers of paint can also add to the time. You can assume that the average time is between one and three week from start to dry finish.
The Process. 
The best art communicates to the masses, Rembrandt said. But knowing what the viewers want to see is an art in itself. So much of the equation is simply feelings you get when you see animage. The layout of the scene, colors, and the lighting all create these feelings to different degrees. 
So what do I look for in subject matter? Some concepts are hard thought out scenes based on a region or local. Others may be a glint in the corner of the eye that just sticks with you in the right way. I often get yelled at for slamming on the breaks in the car to capture a certain angle, the way light hits something, or the combinations of colors that triggers the need to reproduce it. All of the above and sometimes none of the above. If I could put my finger on a certain process and bottle it, the mystery would be gone, and so would the fun. Each piece when it's on the easel is alive as it comes to the forefront. As small, large, simple or complicated as it is. Most are like playing a game of chess, trying to figure out three moves ahead as I work my way across a canvas. Other times it's very spontaneous, where the randomness of brush strokes lead the way.
The style is called "Alla Prima" in Italian, meaning wet on wet. Traditional paintings are applied in multiple layers, allowing for the paint to dry between each. Varying degrees of transparency are used to build the depth, lighting and shadows of a painting. In Alla Prima, it's all put down at once. And as in chess, thinking about the endgame determines the order in which lights and darks and colors are applied. Most of my paintings are finished in one session, and during that time, the world around shrinks to the space between the canvas and the pallet. Time passes differently. Minutes can seen like hours and hours, like fleeting moments. Where the "artistry" comes from, is a question I never ask, knowing that each time that link becomes easier to channel. And at the end, it's simply done. I know when I hit it. And say thank you to where ever it traveled from. 
It's really hard to put into words the process of feelings into paint, but I hope this helps you understand the art.
Art Lessons
The Studio outside Augusta, Georgia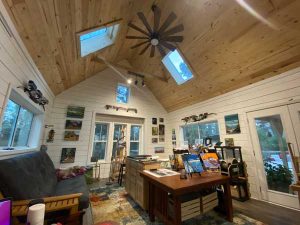 If you are an aspiring artist and need some guidance, I would be delighted to help. As students we work in traditional oils on stretched canvas. Lessons compromise to 2 hour sessions here at the studio in Appling, Georgia, on agreed upon days and intervals that suit you needs. Lessons are set up a week in advance. Students are requested to bring their own paints and brushes, canvases are provided. Ages 12 through adult welcome. Group lessons or "Paint Parties" can be arranged for other locations or at the MAC Gallery in Thomson.
Please consider supporting the arts. There are many way you can join in. Buying art is just one way. There are many organizations that need your help so the arts can flourish in the community. Visit a gallery, attend an auction, patronize an artist, or become one yourself. Augusta is rich in art. Sculptures, architecture, galleries and music all find a welcome home here.