Michael Meissner
SHOWS AND EVENTS
Unveiling the Artistic Brilliance of Paintings byMichael Meissner: One of Augusta's Premier Artist
Welcome to the vibrant world of Michael Meissner, an esteemed artist who has captured the essence of Augusta through his captivating works of art. With a profound passion for creativity and an extraordinary talent, Michael has emerged as a prominent figure in the art scene, captivating art enthusiasts with his unique style and attention to detail. Not limited to the CSRA area of Georgia, Michael has a passion for Western Landscape are featuring the Nation's National Parks.
A Unique Style:
One of the defining aspects of Michael Meissner's art is his ability to blend realism and impressionism, creating a visually stunning and emotionally evocative experience for the viewer. His works often showcase a harmonious balance of vibrant colors, intricate details, pallet knife work, and bold brushstrokes, reflecting his keen observation of the world around him.
Portraits Commissions
Portraits are one of the hardest things to paint. Whereas a landscape can be of in the drawing stage and still look perfectly fine a portrait relies on excellent draftsmanship to capture the likeness of the subject. A good photo to work from is essential in sharpness, lighting and size. Not all good photos make good paintings, something to remember. There will be a certain amount of artistic license taken to breathe life into the painting, and colors are critical in this regard. Info on Pet Portraits.
Landscape Art Paintings
Landscapes, architectural and animal paintings are my favorite. Composition and color play the heaviest roles in these art works. The color of the light and the shadows are emphasized to bring out feelings in the viewer. The right amount of details is a stepping off point so not to be overworked and too photo realistic. I understand realism is a art form in itself, but its often what details are left out and asked to be provided by the viewer that makes it art.
Art Commissions
Commissions are what I rely on the most for subjects. The pieces often reflect someone or something that has a special place in the heart that the painting is expected to carry on through time. Images of Augusta Georgia Art, and old friend that has passed, a newborn life, a favorite pet all deserve the greatest attention. Again, draftsmanship is critical to make that connection and deliver the work into that ongoing memory.
Celebrating Success:
Over the years, Michael Meissner's art has received widespread acclaim and awards, earning him numerous accolades and recognition. His works have been featured in prestigious galleries, both locally and internationally, captivating art enthusiasts from all walks of life. His ability to connect with viewers on a deep emotional level has made his artwork highly sought after by collectors and art enthusiasts alike.
The City's Muse:
Augusta and the Central Savannah River Area (CSRA, with its rich cultural heritage and architectural marvels, has provided Michael Meissner with endless inspiration. His ability to capture the spirit of the city through his art has made him a beloved figure among Augusta locals. Whether it's the iconic Riverwalk, the majestic Augusta National Golf Club, or the vibrant downtown scene, Michael's artwork encapsulates the city's essence, making it come alive on canvas.
Western Landscape Art:
Immerse yourself in the rich tapestry of Western art at Meissner Fine Art. Our gallery is a sanctuary for art enthusiasts, collectors, and connoisseurs alike, where the legacy of the American West and its artistic representation come to life. From sweeping landscapes that capture the rugged beauty of untouched wilderness to intimate portrayals of cowboy life and Native American culture, our collection embodies the spirit of the West. With a carefully curated selection of paintings, sculptures, and artifacts, Meissner Fine Art invites you to embark on a journey through time, exploring the vibrant hues, untamed landscapes, and enduring narratives that define Western art.
National Park Art:
Celebrate the breathtaking beauty of nature's finest landscapes, capturing the essence of various National Parks in every brushstroke. Immerse yourself in the vivid colors, intricate details, and awe-inspiring vistas that our talented artists have meticulously portrayed on canvas. Whether it's the towering granite cliffs of Yosemite, the geothermal wonders of Yellowstone, or the serene coastal views of Acadia, each painting transports you to these iconic locations. At Meissner Fine Art, we are dedicated to preserving the magnificence of our National Parks through the artistry of paint, inviting you to bring the allure of the outdoors into your space.
A Beacon of Inspiration:
Michael Meissner's artistic prowess extends beyond his creations. As an accomplished artist, he actively engages with the community, hosting workshops and sharing his knowledge and passion with aspiring artists. His dedication to fostering creativity and nurturing young talents has made him a revered mentor in the Augusta art scene.
Art Lessons
The Studio outside Augusta, Georgia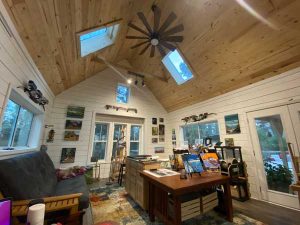 If you are an aspiring artist and need some guidance, I would be delighted to help. As students we work in traditional oils on stretched canvas. Lessons compromise to 2 hour sessions here at the studio in Appling, Georgia, on agreed upon days and intervals that suit you needs. Lessons are set up a week in advance. Students are requested to bring their own paints and brushes, canvases are provided. Ages 12 through adult welcome. Group lessons or "Paint Parties" can be arranged for other locations or at the MAC Gallery in Thomson.
Michael Meissner's artistic journey has been nothing short of remarkable. Through his unique style, profound love for nature, and deep connection with Augusta, he has created a body of work that transcends the boundaries of time and place. Michael's art not only captures the beauty of his surroundings but also reflects the rich tapestry of emotions and experiences that define the human condition. As Augusta's premier artist, he continues to inspire and captivate audiences, leaving an indelible mark.
Please consider supporting the arts. There are many way you can join in. Buying art is just one way. There are many organizations that need your help so the arts can flourish in the community. Visit a gallery, attend an auction, patronize an artist, or become one yourself. Augusta is rich in art. Sculptures, architecture, galleries and music all find a welcome home here.